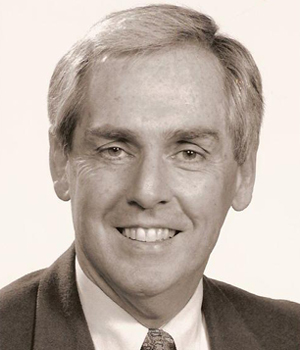 From the ground level, Peter Rylander was one of the many members of the Ontario Colleges Athletic Association who greatly contributed to the development of both the OCAA and the Canadian Collegiate Athletic Association.
Rylander began his career in athletics with Niagara College in 1969 and for the next 27 years, he dedicated his time and effort to grow the OCAA and CCAA. Rylander will be inducted into the CCAA Hall of Fame in the Builder category.
"His total dedication and enthusiasm forged a reputation of excellence at Niagara College that will continue to exist for years to come," said Ray Sarkis, Intercollegiate Coordinator at Niagara.
"Peter was a member who was universally respected by all of his peers across the association and at Niagara College."
Rylander was on the CCAA's Board of Governors from 1979 to 1981 and then served as the CCAA's Secretary from 1981 to 1984.
He served three terms on the OCAA's Executive Committee as Treasurer (1973-75), President (1983-85) and Past President and Chair of the Constitution Committee (1985-87). Rylander also served as the OCAA's Senior Convenor for Golf (1975-76, 1994-96) and Men's Basketball (1978-80).
Among Rylander's fondest memories is playing golf at the 1986 CCAA annual general meeting in Brandon, MB, alongside Sheridan's Fred Wannamaker, and a million mosquitos.
Rylander was honoured to be a part of a committed group from Ontario which helped shape the CCAA into the Association it is today.
"The most dedicated people I remember were Al Hoffman from St. Clair and Chuck Gullickson from Centennial who were the pushers and got more involved at the National level," said Rylander.
"At that time, the hardest item on the agenda was finding a compromise regarding player eligibility as Quebec, Ontario, and the rest of Canada had different high school graduation ages, however, we did work it all out."
Rylander was honoured by the OCAA in 1997 with the Shield Award, recognizing his exceptional contribution to the OCAA and CCAA in the areas of leadership and association development. He was inducted into the OCAA Hall of Fame in 2003.
He was also inducted into the Knights Hall of Fame in 1998 for his role as the guiding force in Niagara College Athletics and Recreation. In his 27 successful years of service, the Knights captured 19 OCAA Championships, four CCAA National Championships and five ICHL Championships. Rylander coached the Men's Basketball team for 13 years (1970-78 and 1980-87), the 1975 Golf team, the 1984 Tennis team and from 1993-95, three straight OCAA Touch Football championship teams. He is Niagara's all-time coaching leader in games and wins.